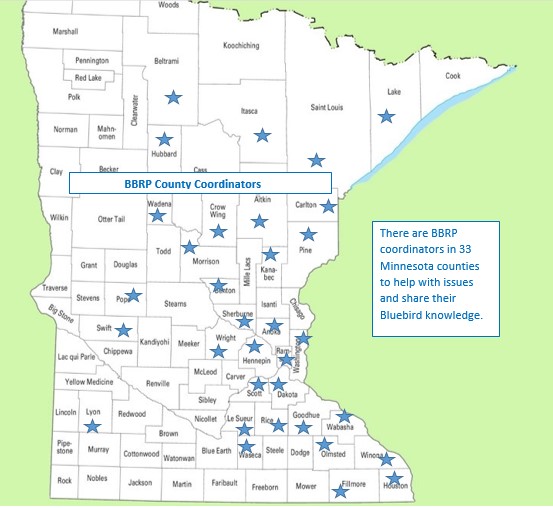 Use this link to find the name and contact information for the County Coordinator in your area! Click here!
CURRENT COORDINATOR NOTES – Hoping for a better year!
Lyon & Scott Counties – May 5, 2022
Introducing two new County Coordinators. Cynthia Sabinske, from Ghent, is an additional coordinator in Lyon County. She has been monitoring and maintaining a trail at Candem State Park and just purchased ten new boxes for upgrades on that trail.
Jon Allen, recently retired Park Supervisor for the city of Savage, has joined us as a coordinator for Scott County. He has been actively maintaining trails and mentoring volunteers in his area for trails at McColl Pond Environmental Learning Center and Canterbury Park in Savage. – Welcome to them both!!
Morrison County – April 30, 2022
Fred Ellingson from Upsala has been making bluebird nest boxes like gang bursters and has put the word out of their availability to bluebirders in Morrison county. Mike Fulford the BBRP Morrison County Coordinate in Little Falls has taken Fred up on his offer for boxes and has filed this report. "Fred, I just wanted to give you an update on the 20 nest boxes I picked up. All 20 are set up on posts and ready for the Bluebirds. Sister Carolyn is very happy with her trail of 12 and has had a pair of Bluebirds checking out one pair in particular. I want to thank you again for your generosity in donating these boxes. I will keep you updated as the nesting season progresses." – Mike Fulford
Houston & Fillmore Counties – September 23, 2021
The 2021 bluebird season was a tough one for many of the local bluebirders in the Rushford area. As I contact them to get their season results many are reporting never even seeing a bluebird this summer.
Last year our county fledged over 1000 bluebirds. We will be no where close to that number this year. After a slow start my trail was better than I expected. 30 of my 34 sights produced at least one brood. However, with the late arrival of a number of the pairs quite a few of the boxes only had one brood.
Generally I have 5 or 6 boxes that have one brood, this year I had 12. Most bluebirders I have talked to report a drop in production around 50% from their 2020 numbers. Let's hope for a more birds retuning to our trails in 2022. The 2021 bluebird season was a tough one for many of the local bluebirders in the Rushford area. As I contact them to get their season results many are reporting never even seeing a bluebird this summer.
Mike Jeresek
Anoka County
August 29, 2021: Just finished my report for 39 houses in the City of Anoka. We are down 71% fledged from last year (43 versus 149). Swallows and chickadees took advantage of less competition utilizing 78% of our houses.
Jeanne Wilkinson
Northern Dakota County – August 30, 2021
Thanks to everyone who helped out this year with the bluebird monitoring! Only three of you actually got to see some bluebird babies this year at DCTC, Meadows and at Diamond Path. The rest of our parks were a BB bust. However, we had plenty of lovely little chickadees take up residence in our boxes. I even got to see some chickadee babies that were probably only a few hours' old, which was really something. Of course, I forgot to bring my phone to take a pic!
A big surprise for me was to see a brood of 3 BB babies in an abandoned chickadee nest at Diamond Path Park. Sadly, only one of the babies fledged. I wonder if the nest material had anything to do with that.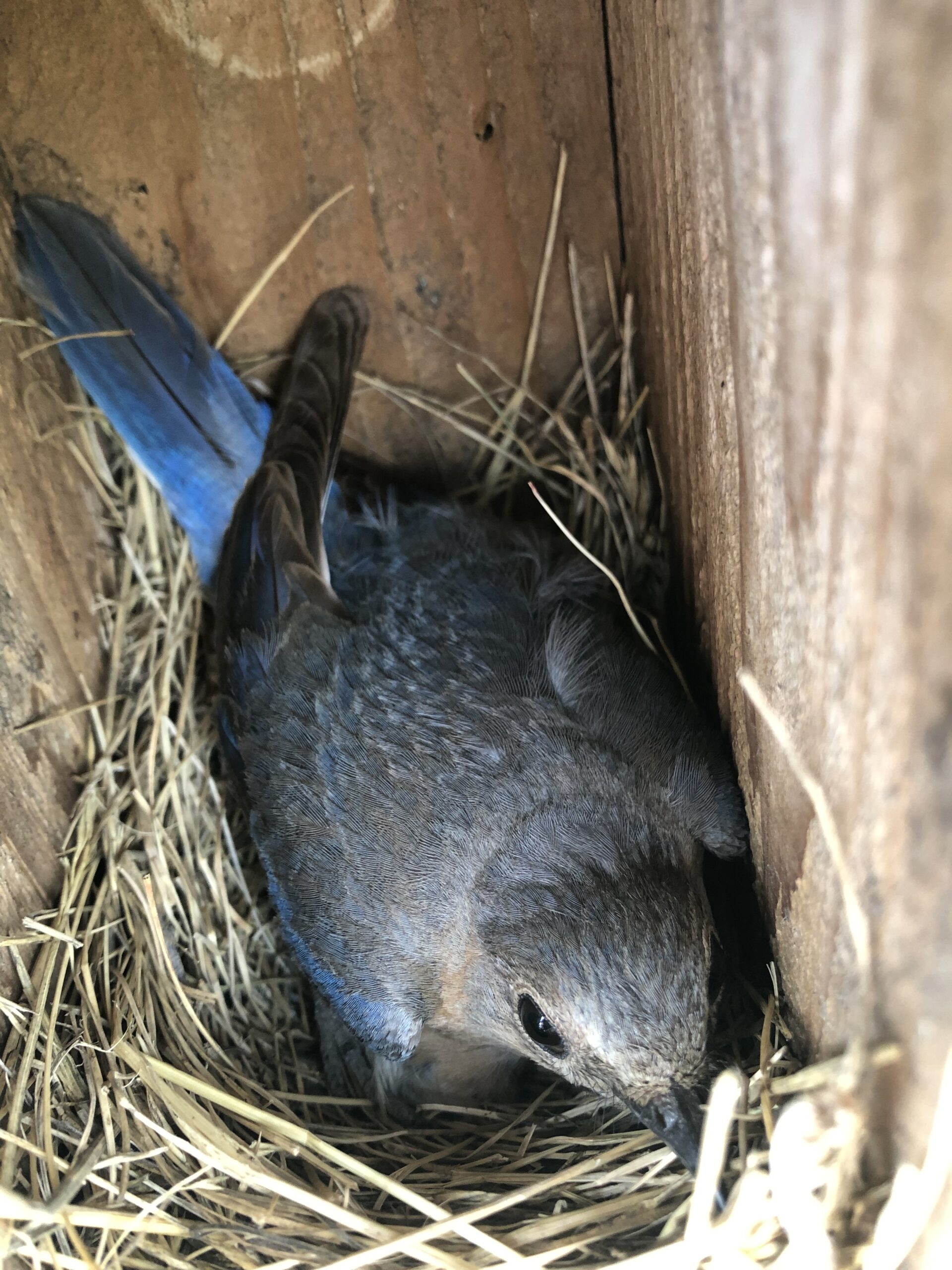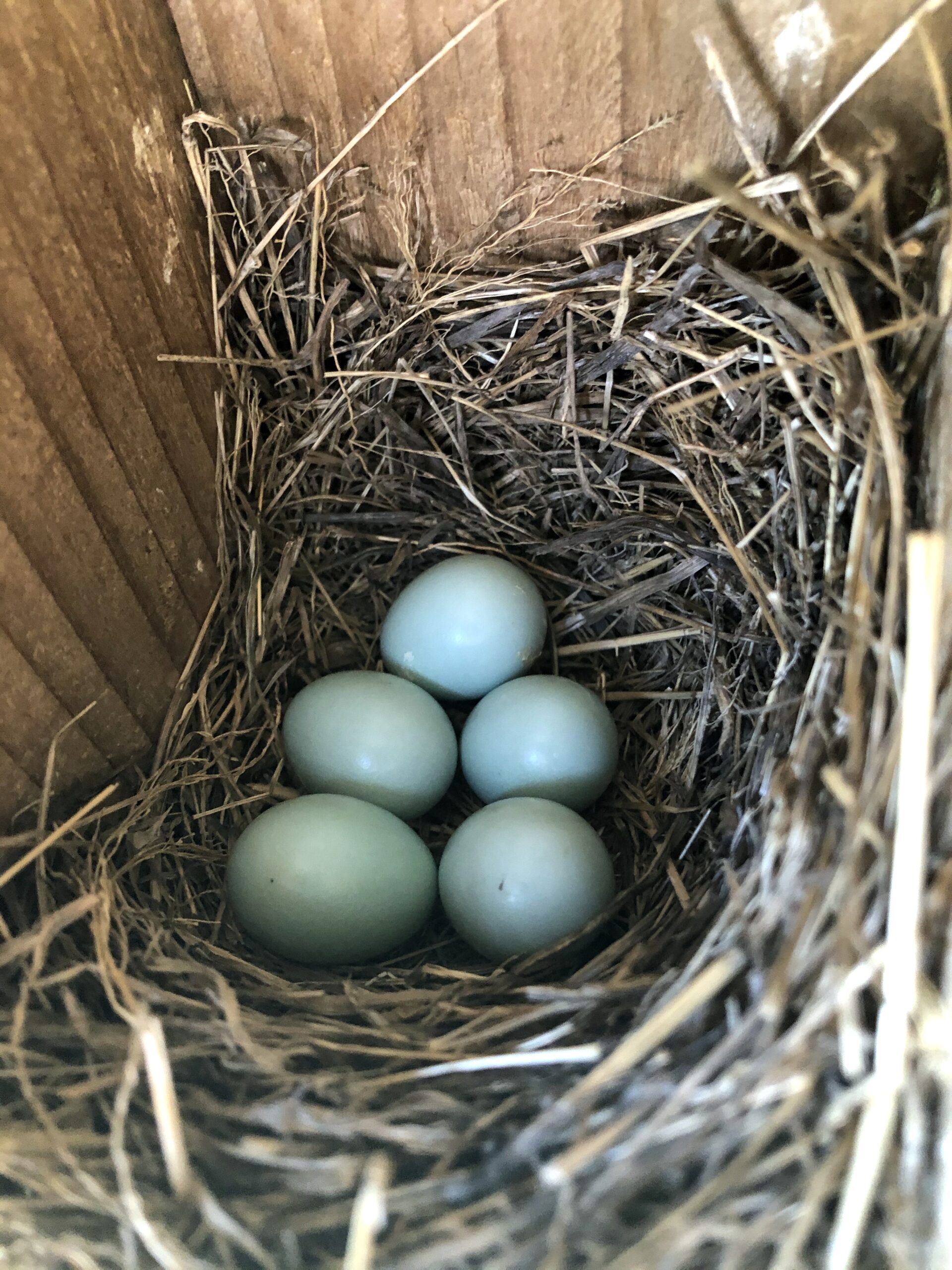 The most resilient BB pair was located at DCTC. Not only did their babies survive being moved by a work crew who were installing a new softball field, the pair stuck around and produced another brood of babies for us in late July after we moved the empty box to a safer and quieter spot a bit further away. Many thanks to Pete Hoffman for being such a dedicated monitor for this pair! Without his quick thinking and steadfastness in June, the original brood of babies probably wouldn't have made it.
I'm in the process of cleaning and taping up the boxes for the winter. I learned the hard way that if I leave the lids closed, mice will nest over winter. I have never smelled anything worse than an abandoned mouse nest in the spring!
Nancy Engel – New Board member & Rosemount trail's leader
Pine County – July 12, 2021
This morning's trail check results are: 23 eggs, 9 chicks, 5 fledged chicks
The Lost Creek trail has fledged 5 chicks, and 2 boxes have second broods of 3 and 4 eggs respectively.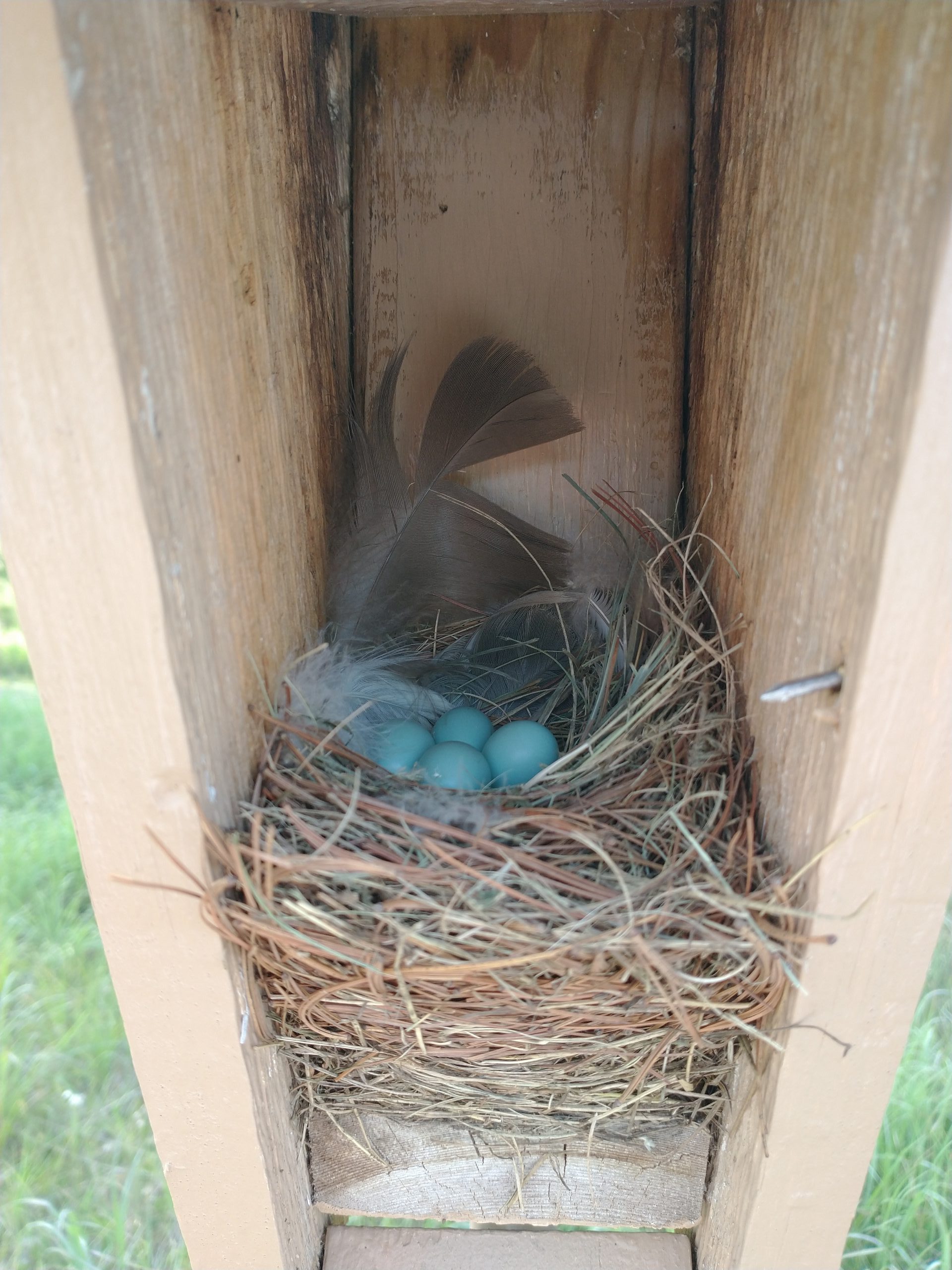 Bluebird nest with swallow feathers.
This nest was started by and has been occupied by a bluebird, observed the last 4 box checks. Did the female add the feathers as a deterrent to swallows moving in, or did a swallow try to move in by adding the feathers. 🤔 Either way, the bluebird has won out so far. 4 blue eggs.🤞
This box is next to the box where I found a dead female in the box (4 chicks had fledged from there the week before). A dead male was found on the ground about 50 feet away.
Another pair of boxes in the same vicinity also had a dead female in the box of 1 of the 2.
20 of my 37 boxes are in pairs. Maybe I should split some of those up. Any thoughts on pairs vs single boxes?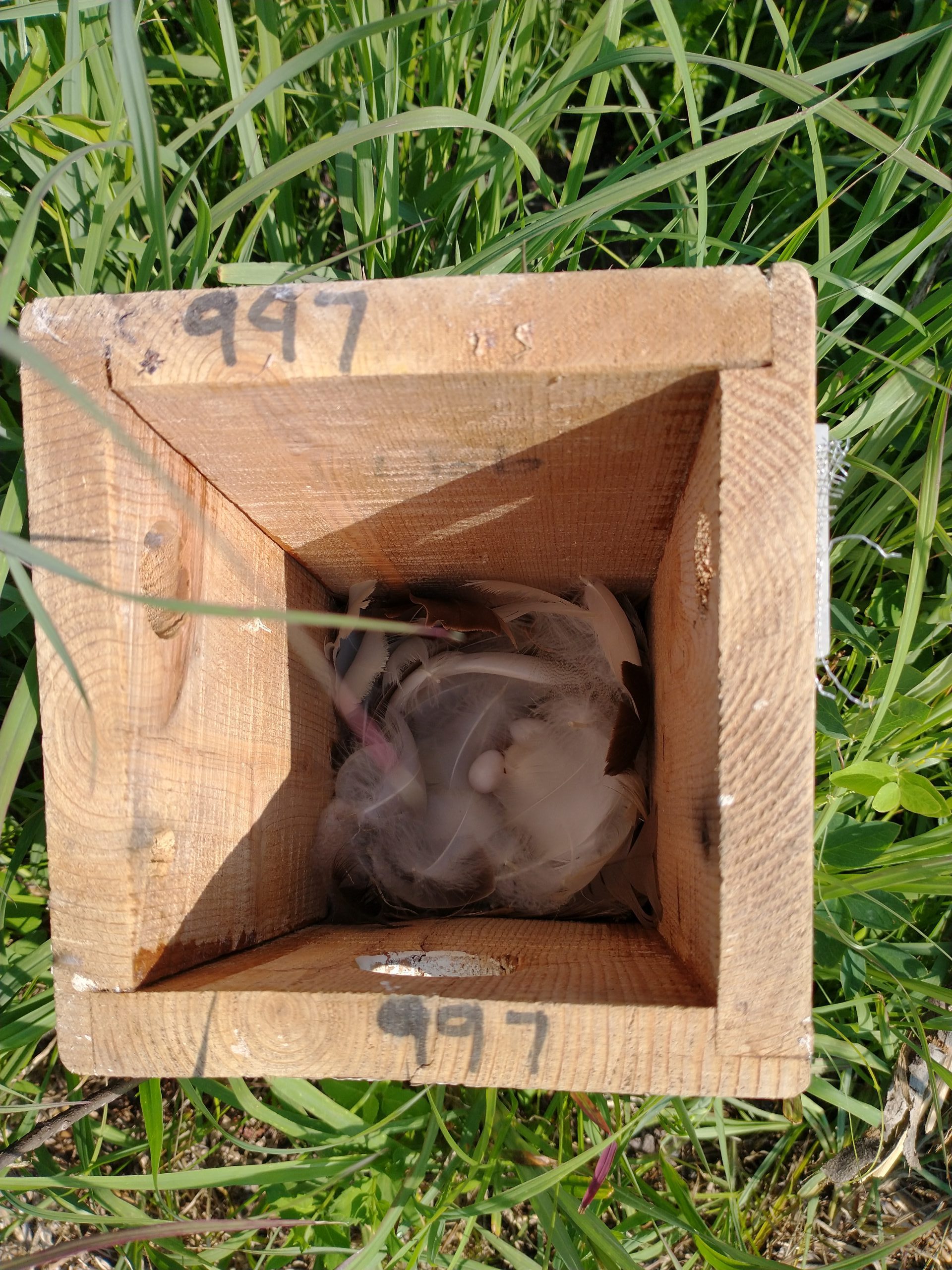 The second pic is a swallow that first laid eggs on the bare floor of the nest box. Looks like she's added some feathers. Better than nothing, I guess.
Jean Olsen
Hennepin County- May 29, July 6 & July 18
In spite of a slow start, I now have 5 nesting pair of EB at Hyland Greens G. C. in 10 boxes.
In the 18 boxes in Bloomington Parks, I had only 2 nesting pair but lost one hen to a Hawk. She was sitting on 5 eggs.
Jack Hauser – July 18
*****************************************************************************************************
Angela Grill, the supervisor of the bluebird monitors at Three Rivers Parks reports their numbers are way down. She estimates that they may only have about 100 bluebirds this year total. They usually have around 700. That kind of says it all.
A real interesting happening this year is two bluebird boxes were stained purple from mulberries, indicating that bluebirds were feeding their chicks mulberries. I've seen that often with tree swallows. They leave the boxes a purple mess. But I hadn't seen that with blue birds before.
Also had a clutch of white eggs this year. I also had a clutch of blue eggs that were so light blue, they were almost white. Both clutches hatched and fledged chicks 100%. Stephanie MacPhail and Carol Cummins also had clutches of white eggs last year. I wonder if it is becoming more common.
Lisa McIntire – July 6
*****************************************************************************************************
I have 32 pairs of boxes on Braemar Golf Course this year.
Bluebirds: 5 nests…4 eggs…9 young…and 9 fledged…as of this morning.
Last year I had 30 pairs of nest boxes.
Bluebirds: 15 nests…7 eggs…53 young…on the same day.
Had 6 chickadee nests at this time last year, 10 this year.
Had 12 tree swallow nests at this time last year, 18 this year.
I help with a trail in Ogilvie that has 12 pairs of boxes…they haven't seen a bluebird as of a few days ago. I help with a trail in Medina that has 13 pairs of boxes…one nest so far, while last year 10 sites had at least one nesting.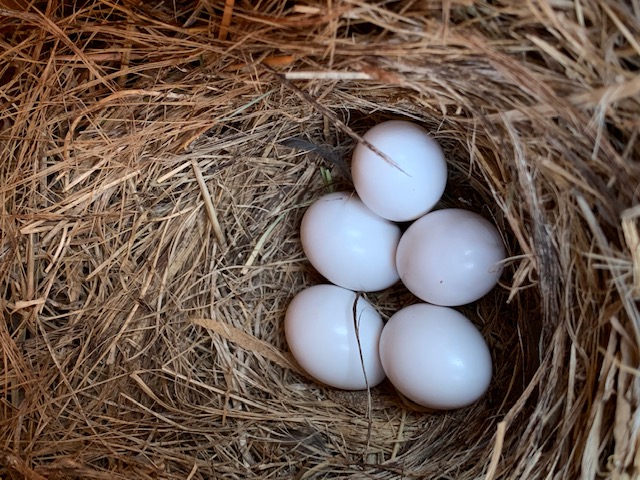 Nest in a new Gilwood box on the former Fred Richards golf course, Edina. I had a pair that laid white eggs two years in a row in the same nest box at Braemar. This location is 2 miles east.
Bob Hursh – May 29
****************************************************************************************************
April 26, 2021 Update!

They all hatch and fledged – Wahoo!
Thanks Jeanne!!
How Many Eggs, Wow ?

– Submitted by Anoka County Coordinator –
Jeanne Wilkinson – March 17, 2021

While vacationing in Florida Jeanne observed 2 females and one male in the area, this is what she found in the nest box. Lets hope they all hatch and fledge!