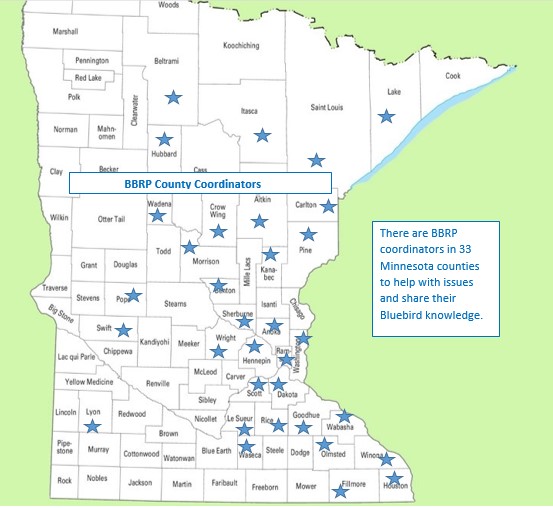 Use this link to find the name and contact information for the County Coordinator in your area! Click here!
CURRENT COORDINATOR NOTES
Filmore County – October 26, 2022
Photo of bluebird in blue muffin (Arrowwood Viburnum) bush fueling up before continuing his migration.- Carrol Johnson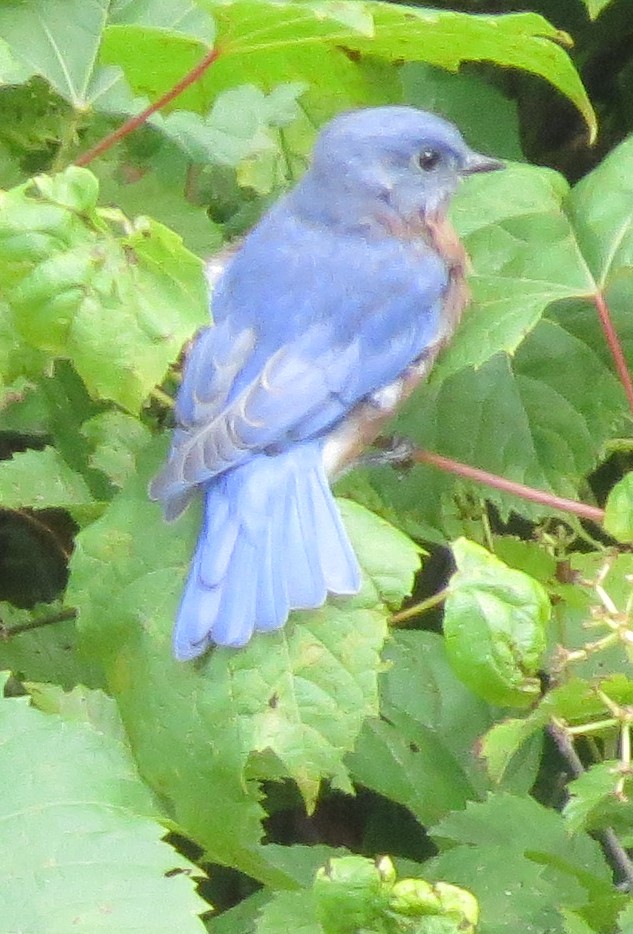 Hennepin County – September 6, 2022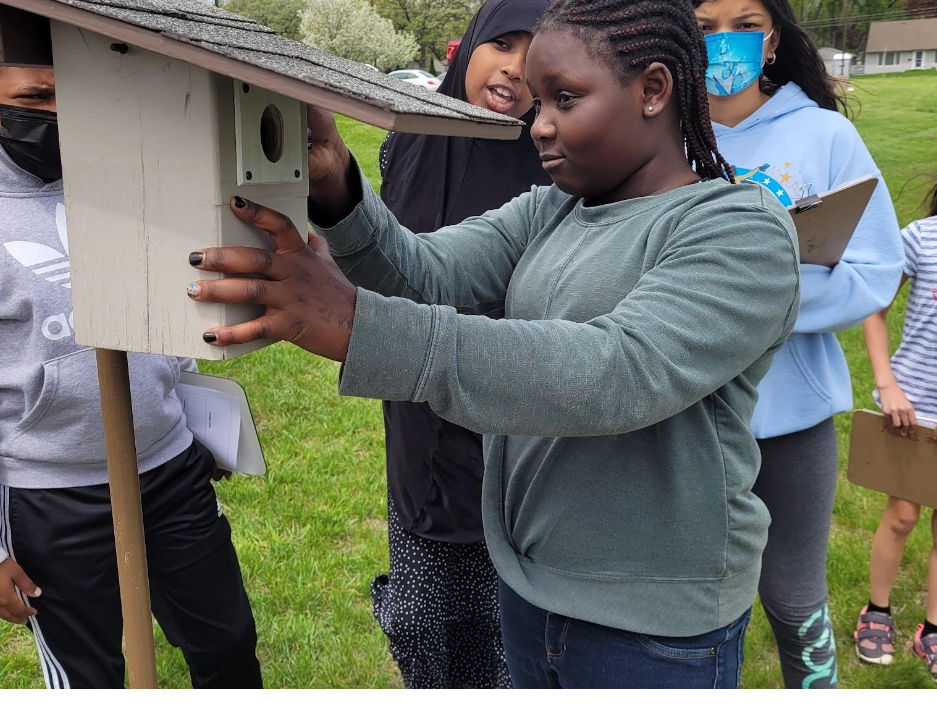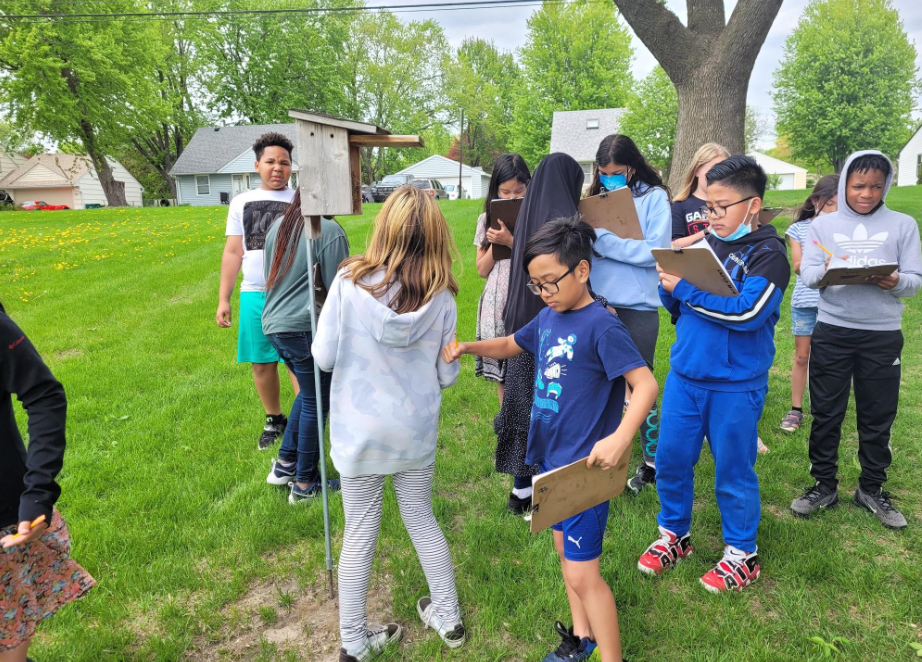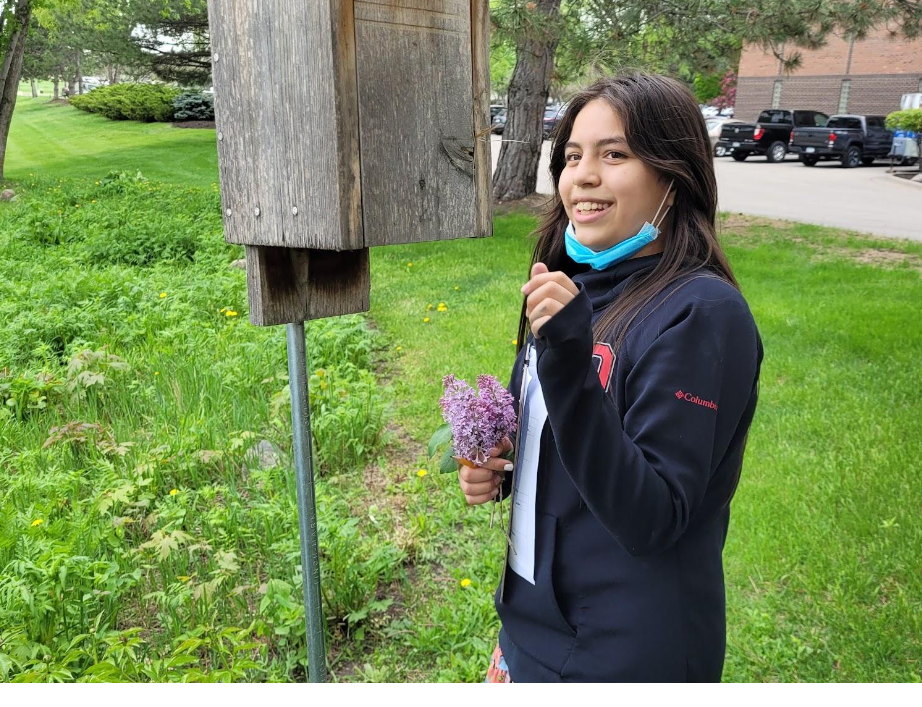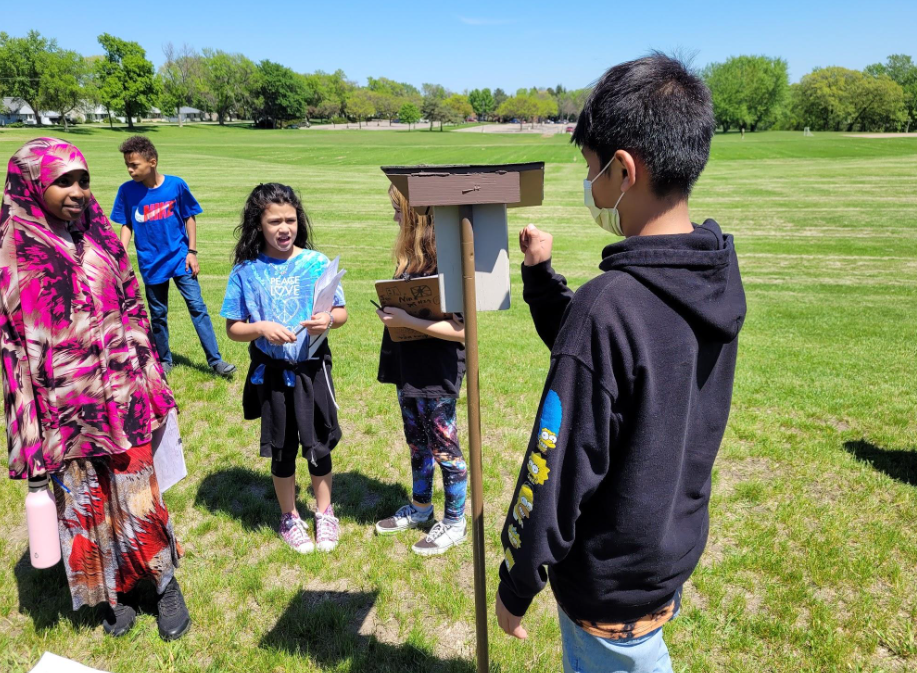 Highlights from the 2022 Season at Washburn's Trail!
This year we were fortunate for 5th graders to observe one brood of Eastern Bluebirds go from eggs to nestlings. Finding the box of eggs was a thrilling day for all of us! On the final day of school the students were able to take one final peek. Although the EBs fledged after school was out, the overall experience proved to be a memorable one.
We spend time going through nest monitoring etiquette before our first attempt and we review prior to each future attempt. Each student gets a chance to knock on and open the box. Each student carries a clipboard with a pencil and observation page. Since our visits are quick and 3/4ths of the boxes have a swing up front door, I take pictures with my phone and we debrief back in the classroom. – Stephanie

MacPhail
Submitted by Lisa McIntire – County Coordinator assistant – Hennepin Co.
Morrison County – June 26, 2022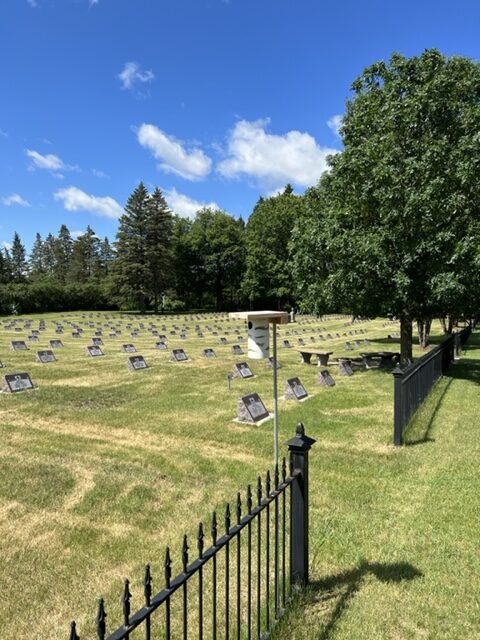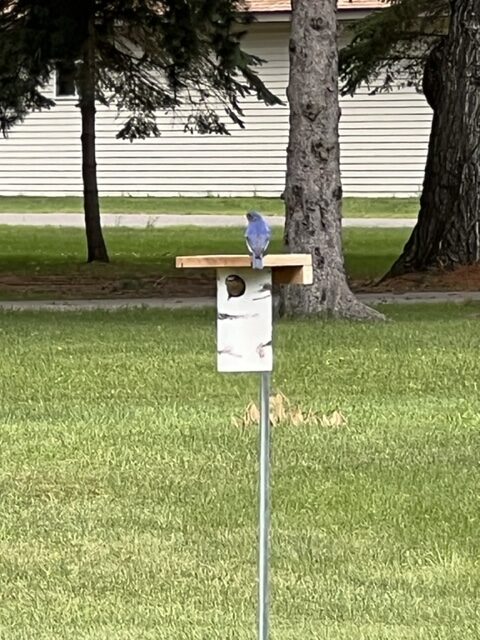 Saint Francis Convent trail in Little Falls updated with new nest boxes from Fred Ellingson, nice job!
Mike Fulford – Morrison County Coordinator
Pine County – June 10, 2022
62 boxes total:
BB 17 boxes
Swallow 31 "
Wren 2 "
Nest 7 "
Empty 5 "
Jean Olsen
Pine County Coordinator
Dakota County – June 4, 2022
Inver Grove Heights – City Hall Trail monitor Barb Garcia sent this photo and stated "Ambitious Mother". This is a great sign as her trail had no bluebird nestings in 2021 – David Schmidt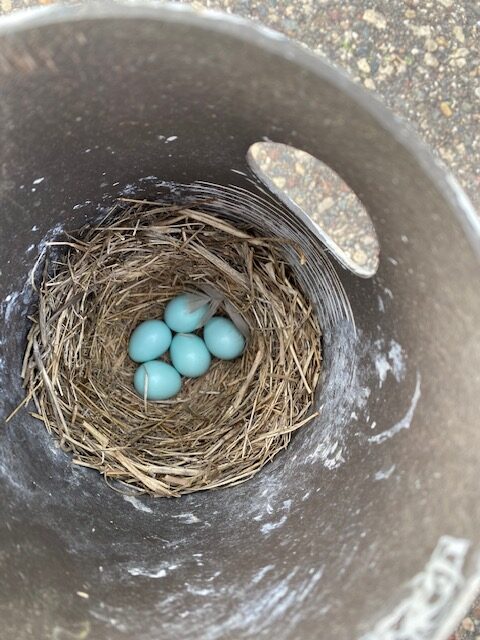 Le Sueur County – June 1, 2022
My bluebird numbers are about what I had last year. Yesterday I checked half of my boxes and I am seeing less tree swallows. – Ben Bartusek – New Prague
Washington County – May 25, 2022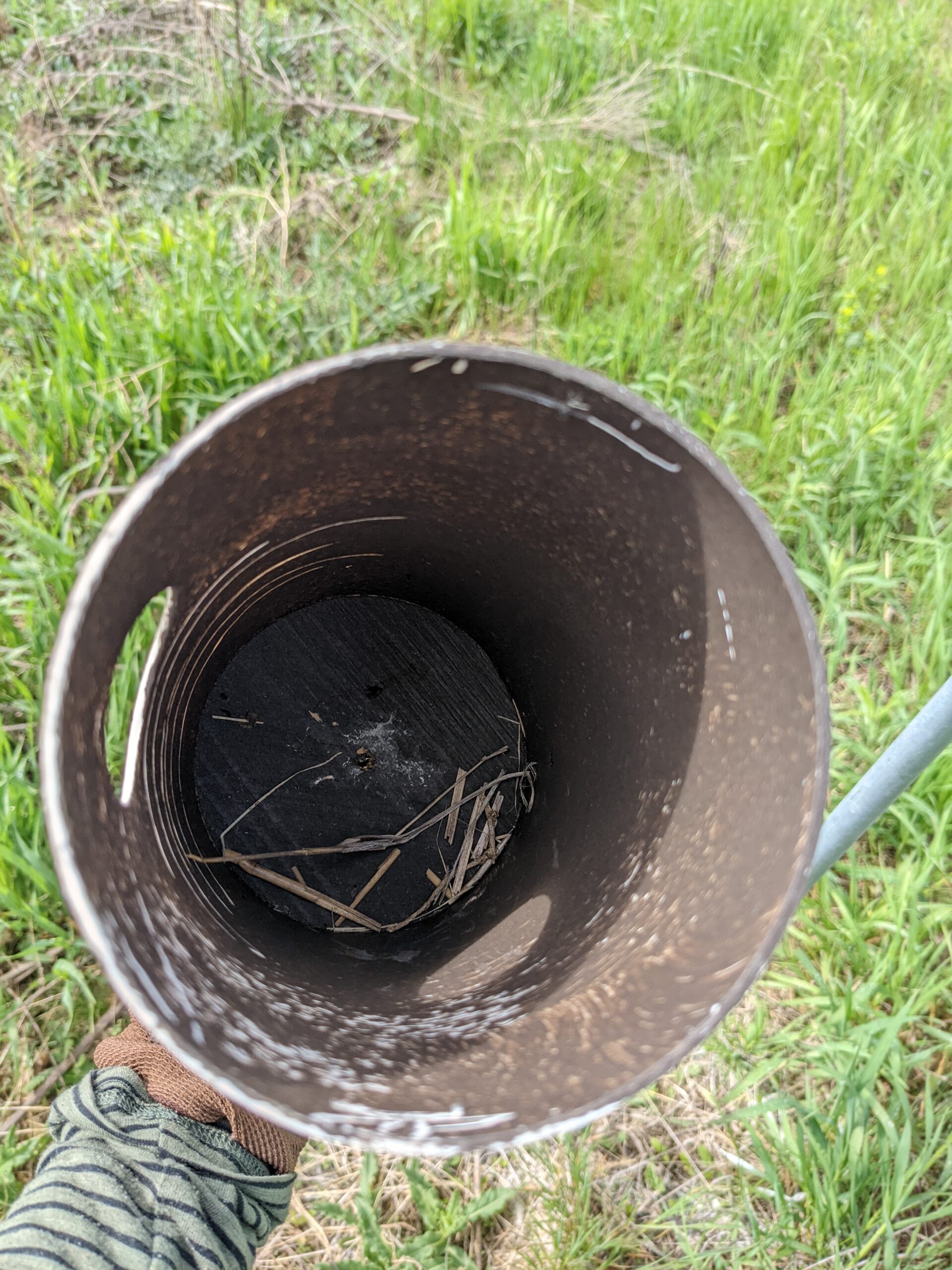 Thanks to BBRP's Public Lands Nest Box Program – Dodge Nature Center was granted eight new nest boxes for installation on their Shepard Farm property in Cottage Grove. Several volunteers and an Eagle Scout candidate are currently monitoring the boxes weekly. It's a new beginning, let's wish them luck for a successful season. – David Schmidt
Filmore & Houston Counties – May 14, 2022
Things are heating up quite literally here. On my 35 box trail I am seeing a little of everything. I have 2 boxes that should fledge this week. 27 of the boxes have some degree of nesting going on. Here is a rundown: 3 full nests, 15 with eggs laid, 9 with bluebird chicks in them, and 8 empty boxes. I have been putting in the vanilla trees in all active boxes to help control the gnats. Local bluebirders are reporting seeing bluebirds, so are fingers are crossed that 2022 is better than the 2021 season. – Mike Jeresek – Rushford
Lyon & Scott Counties – May 5, 2022
Introducing two new County Coordinators. Cynthia Sabinske, from Ghent, is an additional coordinator in Lyon County. She has been monitoring and maintaining a trail at Candem State Park and just purchased ten new boxes for upgrades on that trail.
Jon Allen, recently retired Park Supervisor for the city of Savage, has joined us as a coordinator for Scott County. He has been actively maintaining trails and mentoring volunteers in his area for trails at McColl Pond Environmental Learning Center and Canterbury Park in Savage. – Welcome to them both!!
Morrison County – April 30, 2022
Fred Ellingson from Upsala has been making bluebird nest boxes like gang bursters and has put the word out of their availability to bluebirders in Morrison county. Mike Fulford the BBRP Morrison County Coordinate in Little Falls has taken Fred up on his offer for boxes and has filed this report. "Fred, I just wanted to give you an update on the 20 nest boxes I picked up. All 20 are set up on posts and ready for the Bluebirds. Sister Carolyn is very happy with her trail of 12 and has had a pair of Bluebirds checking out one pair in particular. I want to thank you again for your generosity in donating these boxes. I will keep you updated as the nesting season progresses." – Mike Fulford – Little Falls