Use this link to find the name and contact information for the County Coordinator in your area! Click here!
CURRENT COORDINATOR NOTES
Ramsey & Washington County
Here is a link to a blog post George Brown helped the White Bear Lake All Seasons Wild Bird Stores create to highlight bluebird trail monitoring this past week. Nice job George!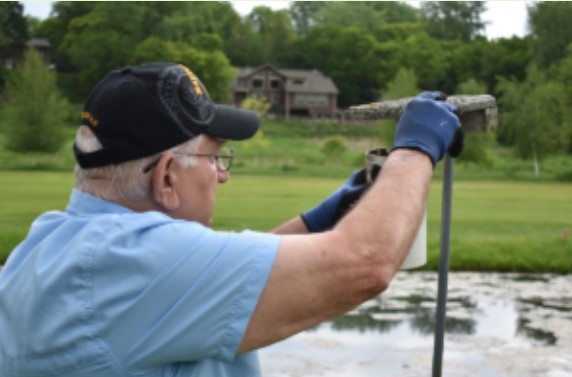 Hennepin County
I have 32 pairs of boxes on Braemar Golf Course this year.
Bluebirds: 5 nests…4 eggs…9 young…and 9 fledged…as of this morning.
Last year I had 30 pairs of nest boxes.
Bluebirds: 15 nests…7 eggs…53 young…on the same day.
Had 6 chickadee nests at this time last year, 10 this year.
Had 12 tree swallow nests at this time last year, 18 this year.
I help with a trail in Ogilvie that has 12 pairs of boxes…they haven't seen a bluebird as of a few days ago. I help with a trail in Medina that has 13 pairs of boxes…one nest so far, while last year 10 sites had at least one nesting.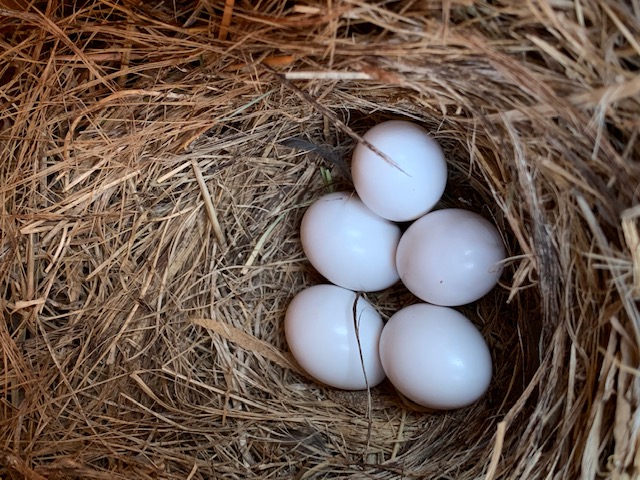 Nest in a new Gilwood box on the former Fred Richards golf course, Edina. I had a pair that laid white eggs two years in a row in the same nest box at Braemar. This location is 2 miles east.
Bob Hursh – May 29
Le Sueur County
I have 8 active nests in 50 locations. So it is not fun checking empty houses. Ben Bartusek – May 27
Anoka County
May 20, 2020: 19 of 39 houses had bluebird nests with 62 eggs and 16 babes for a total of 78 bluebird possibilities.
May 20, 2021: 6 of 39 houses had bluebird nests with 25 eggs… 5 babes dead (too cold?) and then 20 eggs. Interesting to note is 20 boxes with chickadee nests and 13 with tree swallows… very unusual. – Jeanne Wilkinson, Anoka
Northern Dakota, Eastern Scott & Western Washington Counties
Received about a dozen Gilbertson boxes from a couple who moved from Minnesota Lake to the Twin Cities as they didn't want to leave the boxes unattended and hoped they'd find a useful home in the area. Six of the boxes have be rehabbed and installed in Dakota & Washington counties on various existing trails. The remainder will be dispersed over the summer as needed.
Replaced a worn out Peterson box at Afton SP with a rehabbed Gilbertson and moved a couple more out of a sumac area and into the open for the team that monitor the Afton trails.
Conducted an onsite mini class for teacher and students at Oakridge elementary school in Eagan so they could learn about monitoring nest boxes installed on their school campus.
Conducted an onsite mini class at Darvan Acres Nature Center in IGH for 8 adults who attended the virtual Expo as they wanted to visit an established trail and learn firsthand about monitoring.
Responded to an Eagan resident who attended the virtual Expo seeking assistants installing two nest boxes in her yard.
Handled several questions via email for volunteers monitoring BB trails in Savage.
David Schmidt
Houston & Fillmore Counties
May 15, 2021
35 sights monitored.
15 are empty.
5 with full nests.
6 with eggs in them.
9 with chicks.
Usually by now most of my boxes are full. Last year 33 out of the 35 boxes produced at least one brood. Some of the boxes that are empty have produced every year since being put up…very frustrating. A couple of the broods will fledge by this weekend…they maybe could have triple nestings. Sounds like it is going to be a challenging year to be a bluebirder.
Mike Jeresek