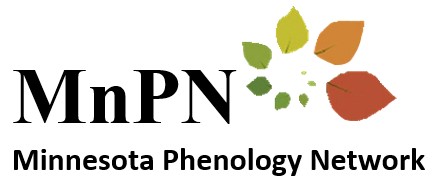 People all over the State are sharing phenology stories, observations, and data!
Every plant and animal is part of a story that affects us all: the well-being of the environment. By tracking changes in the natural world—from bloom times to breeding patterns—we learn more about that story, how it's impacting us and what we can do about it.
Phenology is the study of recurring events in the life cycle of plants and animals, many of which are closely tied to patterns of climate and seasonality. Phenology integrates biological, chemical and physical processes occurring at the level of the cell (e.g. cell expansion of new leaves in spring) to globe (e.g. bird migration).

Photo by Doris Glander
The Eastern Bluebird is one of the featured species of the MN Phenology Network. Meet All Seven Species Here.
Get the complete store on MN Phenology Network and how you can add to this valuable body of work. MN Phenology Network.

BBRP encourages you to get involved in this project!